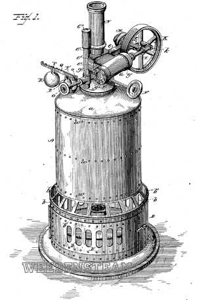 Engine No.1, Drawing from Original Patent
The Weeden Manufacturing Company's production of toy steam engines has left a memorable legacy. Founded by an ingenious watch maker, William Nye Weeden, this U.S. company made its mark in history competing with German manufactures from the Nuremberg area such as Bing, Doll, Marklin, Plank and Schoenner as well as Mamod, Bowman and Burnac in the UK.
My retirement had given me more time to pursue my interest in toy steam engines, and I soon discovered there is actually very little available online information about Weeden Manufacturing's history or its products. The goal of this site, with the generous help of so many, is to preserve the history of these marvelous little engines.
I have tried to provide enough views of the various engines to make identifying them possible, I do have additional photos of some models on file and will gladly share them with anyone that needs more information for restoration purposes.
I have listed a range of selling prices as engines come up on eBay to give a idea of the value of the models, however as with everything else on eBay there are a lot of factors that come into play so take this for what it is worth.
As a collector I am also interested in acquiring complete engines or parts of engines for restoration.