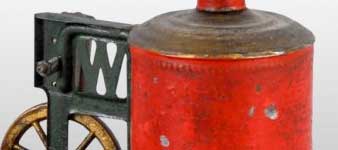 The Weeden Favorites had a "W" cast into the frame.
Brass plates were fastened to either the firebox or bases of many engines.
Decals were often affixed to the boilers or bases of the Weeden engines. Replacement decals available here.
Boilers were embossed with "Weeden Manufacturing" on No.14 models, and "Big Giant" on No.20 models .
A crest style logo with versions of a stylized "W" was used on several models, including the boiler end of early No.14's, the Cornish Beam Engine and Dart locomotive.