Are steam engines safe for children to use?
I personally believe steam engines are a toy that children should use only under adult supervision. There are just too many ways for accidents to happen with a combination of fire, boiling water and with some models electricity involved.
Why are some No. 2 & 3 models stamped with No. 1 on the boiler?
The "Weedens Upright Engine No. 1. Pat. May . 19. 1885" stamped on the top of the boilers of some models refers to the patent the engine is based on, the first six engines were all fairly similar in appearance. The No. 3 was actually produced for 46 years, from 1894 until 1940. First six are here.
Should I fill the alcohol burner tank to the top?
No, the tank should only be filled about 1/2 to 2/3 full, depending on the size of the boiler, so that the burner will run out of fuel before the boiler runs out of water. Running a boiler dry can cause severe damage so must be avoided at all costs. This is usually a trial and error method especially with used engines that may come with a burner other than the original. When adapting to solid fuel the same precautions must also be taken into consideration. Always keep an eye on the water level in the site glass, if no water is visable or if engine slows down remove the burner and extinguish it.
What type of alcohol do I use in the burner?
The burners were designed to burn Wood Alcohol which is also known as Methanol, Methyl Hydrate or Methylated Spirits, it is most commonly available in the paint section of a hardware store were it is sold as a solvent for shellac flakes.
What kind of water should I use?
My personal recomendation is distilled water with about 5% tap water added to it.
This is one of the hottest debated topics among toy steam owners. One theory is that distilled water is de-ionized which removes certain minerals from the water, this water will try to regain those minerals so will leach them from the metal your boiler is made of causing pin holes over time. This is known as dezinc, a common ailment of many toy steam engines. Adding a small amount of tap water will satisfy the water's need for those minerals making it stable enough to use.
Scale is another problem encountered from hard water, hence the recommendation to use distilled water which will prevent it.
Many owners use rain water, others use condensed water from household dehumidifiers with no harm done to the boiler.
Ordinary tap water varies from one location to another, a simple test is to look inside your tea kettle, if you have soft water the inside of you kettle will be scale free, an indication that the water is okay to use directly from the tap.
No matter what kind of water you use the boiler should be drained after each use whille still warm, remove the safety valve and whistle and leave them out until the inside is dry.
Can I heat my engine with Sterno?
Sterno is a brand name of jelled fuel, it works quite well but does not burn as clean as some of the other improved brands on the market sold to heat chafing dishes. Make sure it is in a suitable container so it doesn't spread as it is heated, you will have to experiment with the amount to use and the height of the flame, do not overheat the boiler or run it dry.
Where do I get a replacement wick for my burner?
The original wicks were made of cotton, cloth can be loosely rolled to fit in the burner tube. The strings from a floor mop work well as long as they are cotton. Round lamp wicks are available, some are made from synthetic materials that lasts longer than cotton. The smaller size patio lamp wicks also work quite well.
Flat wicks for No.20 units available here.
Is it difficult to replace a sight glass?
Not really, remove the jam nuts and any broken parts of the original tube, making sure no residue remains in the fittings. Remove the gaskets from each end the tube, slide the jam nuts on, then replace the gaskets. Center the tube between the fitings and tighten the jam nuts until they are snug, do not use excessive force. There are two common sizes of sight glass tubes that fit most engines, check which style you require: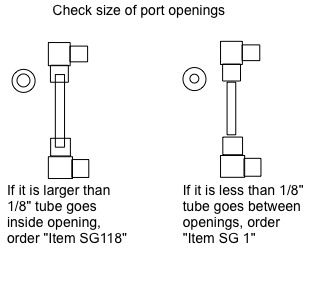 Some models require longer tubes, measure distance between the ends of the ports, if the port opening is the larger style add 1/8" to length.
Replacement sight glasses available here with installation instructions.
What is the difference between a single acting and a double acting cylinder?
In a single acting cylinder the piston is pushed from top dead center by steam pressure and returns back from bottom dead center by the inertia of the balance wheel. In a double acting cylinder the piston is pushed by steam in both directions which naturally increases the power of the engine.
Steam is leaking out of safety valve.
Small leaks out of the safety valve may be caused by a faulty gasket, but are usually a case of the valve not being seated properly. Tap the top of the valve with your finger a couple times, this usually seats it properly.
The boiler should be filled 1/2 full to allow room for steam pressure to build up, most boilers have sight glasses so the level can be easily seen.
If your model does not have a sight glass fill the boiler right to the top, drain entire contents into a measuring cup, make a note of 1/2 of volume and use this measurement to fill the boiler.
The easiest way to fill and empty a boiler is with a large syringe with a tube attached to it, preferrably a brass tube long enough to reach bottom of boiler. Tipping the boiler to drain it may cause any loose particles to enter the steam line and plug it.
The type of water used in the boiler is very important, see this faq.
Filling the boiler with hot water will increase your run time.
Size of connector on electrical cord?
Electrically heated engines use a standard appliance cord with 11/16" pin spacing, some connectors are equipped with a built in switch which is very convienent. Replacement cords available here.
What size is a Weeden tractor drive chain?
Weeden drive chains are slightly less than 5 links per inch, not an industry standard size, and are available from only one source that I know of, Carol & Dallas' Antique Toys. You will find lengths for both the No.643/644 and 645/646 models on their site under "Items for Sale".
Can I use regular plumbing solder to repair my engine?
Plumbing solder, known as "soft solder" will work just fine, it is actually easier to use than "silver solder" as it takes less heat to melt it, thereby lessening the chance of melting other nearby joints. Just don't run a boiler dry that has been soldered with it as the solder will melt without the water being present and leaks will occur.
What size threads are used on the Weeden boilers?
Weeden used a standard 1/4" - 32 MPT (Model Pipe Thread) for all the boiler fittings both on the top for the whistle and safety valve and on the ends or sides for the sight glass fittings. Brass fittings as well as taps and dies are available from the Weeden Steam Store.
How much air pressure does it take to run a steam engine?
It actually takes very little, 5 PSI will run most engines, one word of caution when running an engine on air, keep it well lubricated, unlike steam which acts as a lubricant, air pressure dries the parts out. Running an engine on air is a safe way to test a newly acquired engine.
What type of oil should I use in my engine?
You should have two types of oil for your engine, steam oil and 30 weight motor oil. Steam oil can be purchased in small quanities and should be used anywhere the oil comes in contact with steam such as the piston, cylinder and steam blocks. Any moving parts not in contact with steam should be lubricated with regular 30 weight non-detergent motor oil.
How do I adjust spring on oscillating cylinder?
There is usually a sweet spot where there is enough tension to hold the cylinder snug to the plate but it is loose enough that it moves freely. Make sure the surfaces are well lubed with steam oil, then adjust on the run for the best performance.
What should I use to polish a brass boiler?
There are several products on the market, Autosol, Brasso, Maas and Simichrome seem to be the most popular. There is often much debate about this, the general concesus is that Brasso is a bit harsher than the others and it is generally felt that Maas and Simichrome may be identical products. If a boiler is in really bad shape it may be necessary to take more drastic means with a buffing wheel and jewellers rouge.
How are the bolier straps fastened on a No. 14?
It may seem a bit odd but one end is bent at a right angle and the other end is twisted to put tension on the boiler. Replacement straps available here.