Product Identification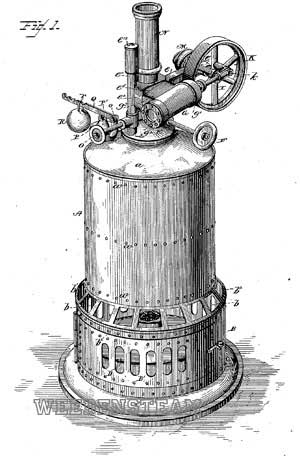 Engine No.1, Drawing from Original Patent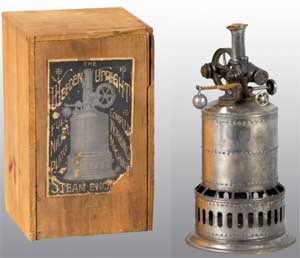 Weeden Upright Steam Engine with box.
Company History
The Youth's Companion, a publication for children approached William Nye Weeden and asked him to design an inexpensive, quality toy that the magazine could use as a premium in an effort to increase subscriptions. Weeden designed an upright steam engine, the design, quality and function of the engine so impressed the publication that they gave Weeden an initial order for ten thousand units at one dollar apiece. This $10,000.00 would be the impetus for the formation of The Weeden Manufacturing Company in 1883.
Weeden's Upright Steam Engine No.1," first appeared in the October 1884 issue of Youth's Companion. This was a stationary steam engine with an upright boiler, offered for $1.00. In the 1870's and early 80's, the magazine had offered steam engines made by the Buckman Company of New York for these same purposes.
He often made his own tooling for the items he manufactured - presses, dies, molds and other production items. Realizing the value and the uniqueness of these specialty tools, patterns and dies he had them locked away in a fire-proof safe at the close of business each day.
The Weeden Manufacturing Company was in business for a long time and made a large variety of stationary toy steam engines and trains over the years. Mr. Weeden actually only ran the company for 8 years until his death in 1891 when William Richie, a former salesman took over as chief executive. When he passed away in 1939 his son William B. Richie followed him at the helm until 1942 when the company was sold to "National Playthings" which halted production of the line of steam engines in 1952. The remaining machinery, parts, dies, molds and patents for the steam engines were purchased by "Security Signals Inc." for around $800 and kept in storage, until finally destroyed years later.
Message from grandson Bill Richie.
| | | |
| --- | --- | --- |
| | Weeden also produced miniature autos and steamboats as well as the now highly collectible tin mechanical banks, including "Ding Dong Bell," "Japanese Ball Tosser," and the "Plantation Bank." | |
| | |
| --- | --- |
| Thanks Mark | Weeden Manufacturing introduced an electric stove featuring two top burners and an oven in 1927 which was available for several years. A tea kettle, frying pan, double boiler, cake pan and cook book were included with the stove. |

Many consider the Weeden Dart to be the most successful early American toy train, tens of thousands were sold from 1890 to 1912. Their unique design and handsome proportion make them sought after by both toy and toy train collectors.
Nor-Cal Express has quite a bit of interesting information about Weeden trains.
| | |
| --- | --- |
| | An antique toy journal claims that Weeden "is responsible for perhaps one of the finest and most desirable toys ever produced, the Weeden's Live Steam Fire Engine." |
Types of Engines
Both the upright, "Candle Stick" style and horizontal boiler models were made. In 1926 electric heating elements were introduced as a safety feature, several models were given new models numbers when they included this feature.